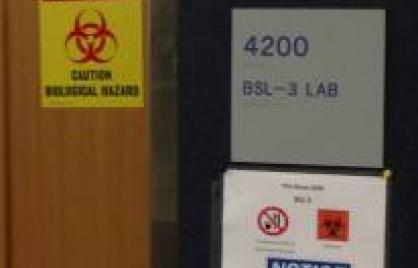 (Washington, DC) The District has received approval from the Centers for Disease Control and Prevention to begin operations at the first Biosafety Level 3 laboratory in the national capital region, Department of Forensic Sciences Director Max Houck announced.
That means the city's Public Health Laboratory can now conduct biological analysis that will identify dozens of materials that the CDC's Division of Select Agents and Toxins has determined to "have the potential to pose a severe threat to public health and safety," including bubonic plague, the smallpox virus and man-made toxins such as ricin and anthrax.
The BSL3 lab is located at the District's Consolidated Forensics Laboratory and has seven levels of security, including biometric locks and dual-key systems.
The news of federal approval came barely a year after the $210-million, state-of the-art CFL first opened its doors.
"We have trained hard for this, worked hard for this, and achieved this through teamwork," said Alpha Diallo, director of the Public Health Laboratory. "I always tell my co-workers that 'excellence is a habit' – and it has paid off."
DFS Director Houck said he "could not be prouder of our PHL and their efforts toward approval."
"This is one of the reasons why the District invested in the Consolidated Forensic Laboratory, to have this kind of capacity," Houck said. "Our approval provides a new resource for the entire national capital region."
The string of "firsts" for DFS continues. In its first year of existence, the Public Health Laboratory was certified, and the Forensic Science Lab was recommended for accreditation under international standards.
"That's a process that often takes up to two years," said Paul Quander, Deputy Mayor for Public Safety and Justice. "The work done by Director Houck and the rest of the staff at DFS has made the agency a model for excellence known worldwide."