Christine Funk Picked to Committee Advising Forensic Science Standards Board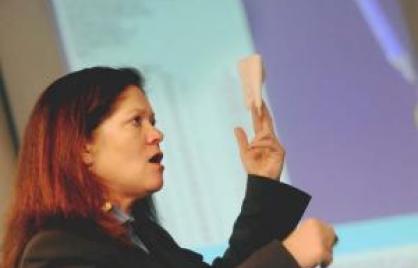 (Washington, D.C.) The general counsel of the District's Department of Forensic Sciences (DFS) has been appointed to the Legal Resource Committee that will advise the national Forensic Science Standards Board.
Christine Funk, who joined DFS in February 2013, is one of 10 members appointed to the committee, which is part of the Organization for Scientific Area Committees (OSAC) and comes under the direction of the National Institute of Standards and Technology (NIST). It provides guidance about the legal ramifications of forensic standards under development and provides input on the presentation of forensic science results to the legal system.
It is part of a larger effort by NIST and the Department of Justice to strengthen forensic science in the United States.
"As our science-focused committees and subcommittees work to support the development of forensic science standards and guidelines, we expect that there will be many questions related to law…," said John Paul Jones II, associate director for OSAC affairs. "[This resource committee] will help address those."
Funk was one of 35 people chosen for spots on three resource committees from among 1,300 applicants.
At DFS, Funk represents the agency in various legal proceedings, and acts as the principal attorney in the development of new and amended legislation and regulations involving DFS. She was an Assistant State Public Defender in Minnesota, where she created the DNA Institute for the Office of the Minnesota Public Defender. She is a fellow in the American Academy of Forensic Science, and was an appointed member to a working group for the White House Subcommittee on Forensic Science.
"Having the DFS general counsel appointed to this new forensic advisory group is an indication of the success of the District's vision for an independent forensic agency," said DFS Director Max Houck. "I am thrilled that Christine was chosen for this significant effort."
Funk is looking forward to the task.
"This is an interesting and exciting time for the forensic science community," she said. "I am honored to be able to participate as a member of the Legal Resource Committee."