Tuesday, November 25, 2014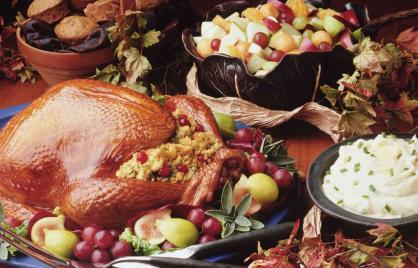 It's Thanksgiving week, and that means it's time to talk turkey. More specifically, food safety as it relates to your holiday feast.
The Centers for Disease Control and Prevention say foodborne illnesses spike in November and December, and it's no coincidence as the holidays are times for family and leisurely, hours-long meals.
But the recipe for a good time can also be a recipe for food poisoning.
Dr. Morris Blaylock, head of the Microbiology Unit at the DC Department of Forensic Sciences' Public Health Laboratory, says a safe meal starts before the food even enters the kitchen.
"It's always best practices to make sure your food preparation areas and surfaces are disinfected," Dr. Blaylock says. "That's where spreading of foodborne bacteria is common."
After working with raw poultry, always wash your hands, utensils, and work surfaces before they touch other foods.
Thoroughly clean your electric carving knife and blender before and after use, Dr. Blaylock says. "You'd be surprised what you'd find lurking in a blender that hasn't been cleaned properly."
Other tips from Dr. Blaylock: Thoroughly wash your greens and fruits; and if mayonnaise is in your salad dressing or on your table, keep it cold for as long as possible.
Buying your turkey frozen? The CDC says there are three safe ways to thaw food: in the refrigerator, in cold water, and in a microwave oven. Buying a fresh bird? Keep it refrigerated at 40 degrees Fahrenheit or below.
For optimal safety and uniform doneness, the CDC says to cook the stuffing outside the turkey in a casserole dish. However, if you place stuffing inside the turkey, do so just before cooking.
Set the oven temperature no lower than 325°F. Check the internal temperature at the center of the stuffing and meaty portion of the breast and thigh using a food thermometer. Dr. Blaylock says to use a needle thermometer that can probe deeply. "Half-cooked poultry is always a hazard," he says.
The food thermometer must reach a safe minimum internal temperature of 165°F.
According to the Food Safety and Inspection Service of the U.S. Department of Agriculture, you've got about two hours to eat your turkey, stuffing and side dishes. Keep them in the oven at 140°F or hotter; covering with foil will help keep the food moist.
If you won't be eating the food within 2 hours of it being ready, you're now dealing with leftovers. Remove all stuffing from the turkey cavity immediately and refrigerate it. Cut turkey breast meat (legs and wings may be left whole), wrap and refrigerate. Use shallow containers to refrigerate potatoes, gravy, and vegetables. Reheat thoroughly to 165°F or until hot and steaming. Bring gravy to a rolling boil. In the microwave oven, cover food and rotate dish so it heats evenly.
Consume your refrigerated leftovers within 3 to 4 days.
"If your kitchen is clean, you keep food at proper temperatures, and you ensure your hands are clean, you should be OK," says Dr. Alpha Diallo, director of the Public Health Laboratory.
But if something seems amiss after your feast, seek help.
"If anyone develops stomach cramps and/or diarrhea 2 to 3 days after eating," Dr. Blaylock says, "go see your doctor."